With average temperature reaching nearly 20 degrees, April is the month to stay and enjoy time outside in the various parks and squares of Barcelona.
And it's perfect because we present you the events to do just that!
La Diada de Sant Jordi
La Diada de Sant Jordi, also called as El Día de la Rosa and El Dia del Llibre, is celebrated in Barcelona every year 23rd of April. It's known as the day of lovers, too.
Sant Jordi is a Catalan traditional holiday, with some similarities to Valentine's Day. Historically men gave women a rose, and in exchange women gave men a book. "A rose for love, and a book forever" as it was said. The same tradition is still going on, even though in modern days mutual exchange of books is also conventional.
During this day the streets of Barcelona and all over Catalonia will be crowded with people, and you will see most of the women walking with roses in their hands.
Rose selling stands and book shops are set up everywhere, and in the evening of the day around 6 million roses and 800 000 books will be sold. In 1995 UNESCO adopted 23rd April as World Book Day.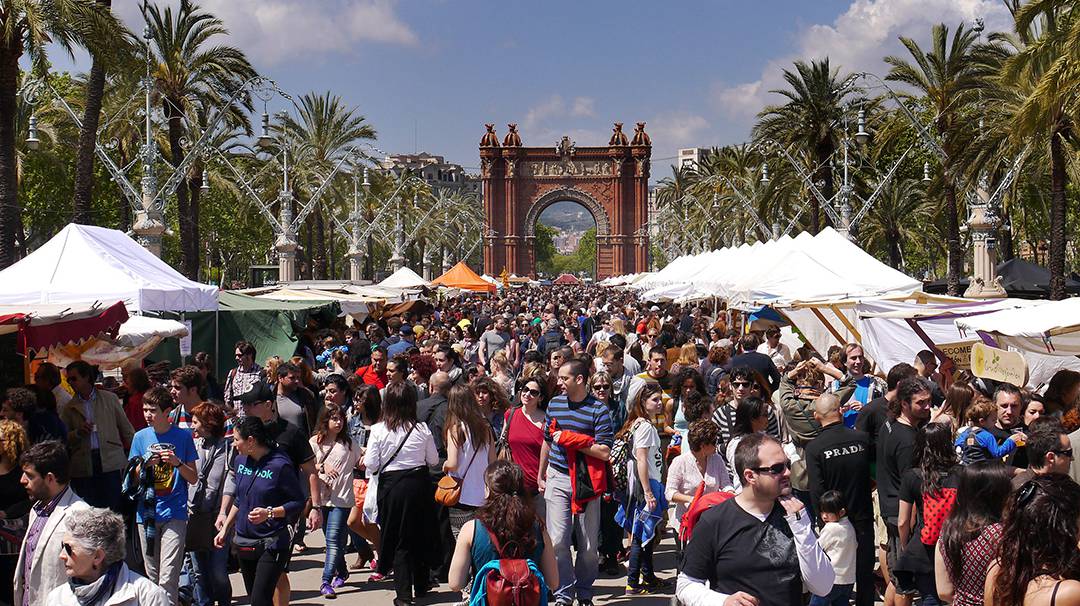 Fira per la Terra / Earth Day 2018
During the weekend 21st and 22nd of April is held Fira per la Terra, also called Mercat de la Terra. This event is organized yearly as part of the International Earth Day 22nd April. The first Earth Day was celebrated in 1970 aiming to create the modern environmental movement, and now it works in 192 countries around the world.
Fira per la Terra earth fair is held in Parc de la Ciutadella and on the street Passeig Lluís Companys which is next to the park. From here you can find ecological, recycled, and environmental friendly products. The fair also offers fun activities and workshops for children and families.
Planning to travel to Barcelona in April?
Habitat Apartments offers a wide variety of fully equipped apartments all around the city of Barcelona. Have a look for example on this spacious apartment, where sleeps comfortable six persons. The apartment is located just 5 minutes walk to the Ciutadella Park: Alibei 1 apartment in Barcelona.